Asteroid (7194) Susanrose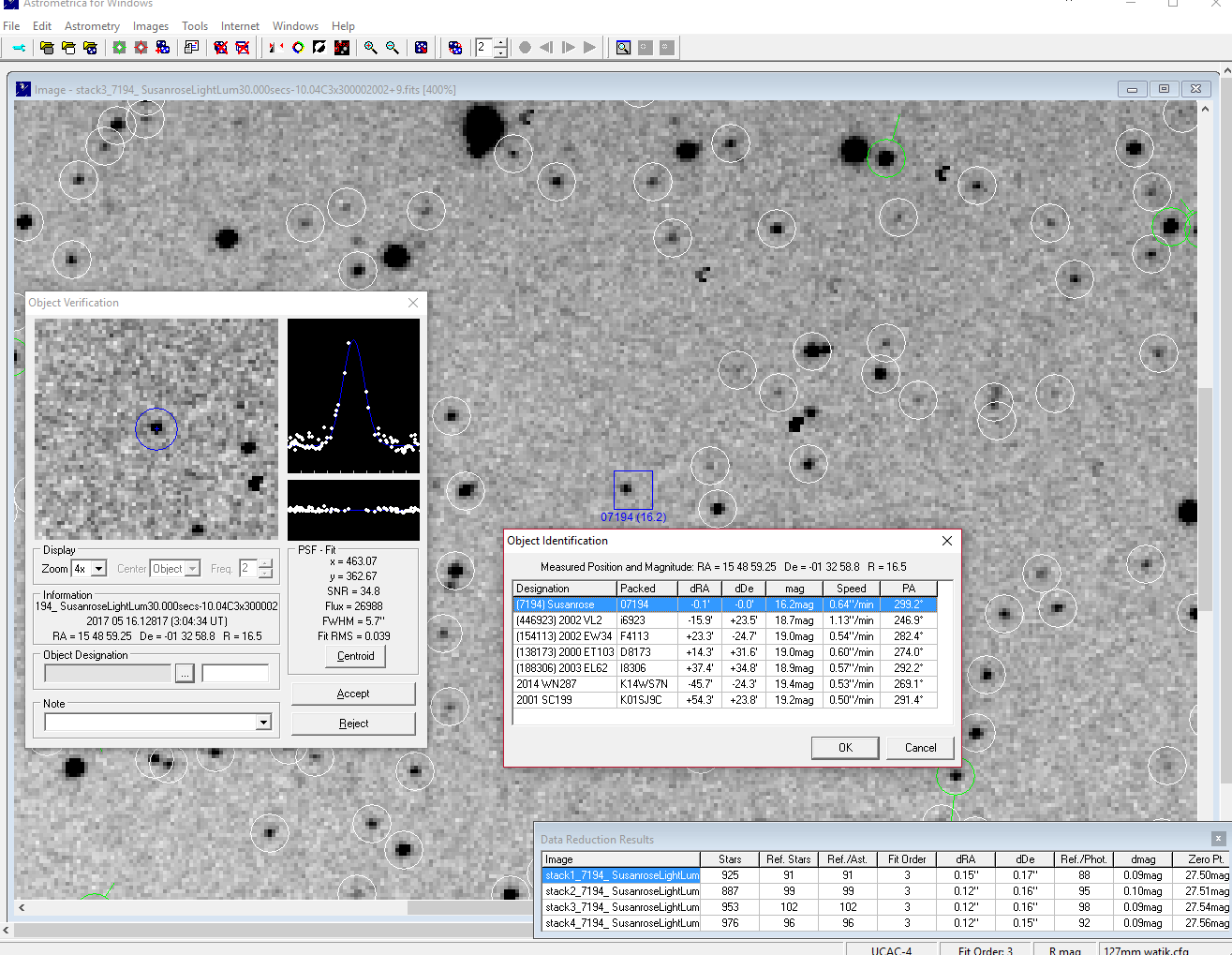 Here is an image of one of the asteroids I measured while conducting my asteroid astrometry program on May 15th. The images used to derive the measurements, shown at the lower right in the photo, consisted of 40 images, 30 seconds each with the ccd binned at 3×3 to increase sensitivity. The images were captured in 4 groups of 10 with 8 minutes separating the groups. The groups were stacked in Astrometrica software which also did the measuring. Stacking the image groups was necessary to create enough signal for an accurate measurement. It was measured at magnitude 16.5. It is currently cruising through the constellation of Serpens Caput.
What's significant about this asteroid is its name. It is named for the President of my club in NY, Sue Rose, for her decades of support to the astronomical community. Sue was surprised with the announcement, and presentation of a beautiful plaque at the 2009 ALCon convention hosted by the Amateur Observers' Society at Hofstra University.
COD W33
CON Transit Dreams Observatory
OBS D. Wilde
MEA D. Wilde
TEL 127mm F7.5 APO Refractor + CCD
ACK MPCReport file updated 2017.05.16 11:31:28
NET UCAC-4
07194 KC2017 05 16.10882 15 49 00.31 -01 33 07.9 16.4 R W33
07194 KC2017 05 16.11851 15 48 59.78 -01 33 03.0 16.4 R W33
07194 KC2017 05 16.12817 15 48 59.25 -01 32 58.8 16.5 R W33
07194 KC2017 05 16.13787 15 48 58.74 -01 32 54.2 16.8 R W33
—– end —–