http://www.tdo.space/2017/08/02/clearing-skies-and-fast-asteroids/
Clearing Skies and Fast Asteroids
It's been a good week for Transit Dream's Asteroid astrometry program. A few days of reasonable weather has allowed me to dive back into imaging some of these solar system wanderers. My goal is to capture NEA's that pass close to Earth with the future potential of impact. By refining the orbits of these asteroids, research scientists can extrapolate their orbits into the future, with greater and greater accuracy.
Many of these asteroids are small and dim. They only become visible, to even the large survey telescopes, when their orbits bring them in close to Earth. So followup obsevrations by amateurs are critical to obtain enough measurements to extrapolate the path of these asteroids, as their orbits take them photographically out of reach.
Right now, the work I can do is limited by the small aperture of my scope. I cannot always get reliable measurements of those dim asteroids due to their rate of motion, and the short exposures required to freeze that motion for accurate measurements. So, my focus right now is to image asteroids that are brighter, and whose orbits could use some refinement. I'm also getting involved with the "Target Asteroid" program, which is surveying some of the more interesting asteroids as potential future mission targets, like the Osiris-Rex program that has a spacecraft heading toward the asteroid Bennu now.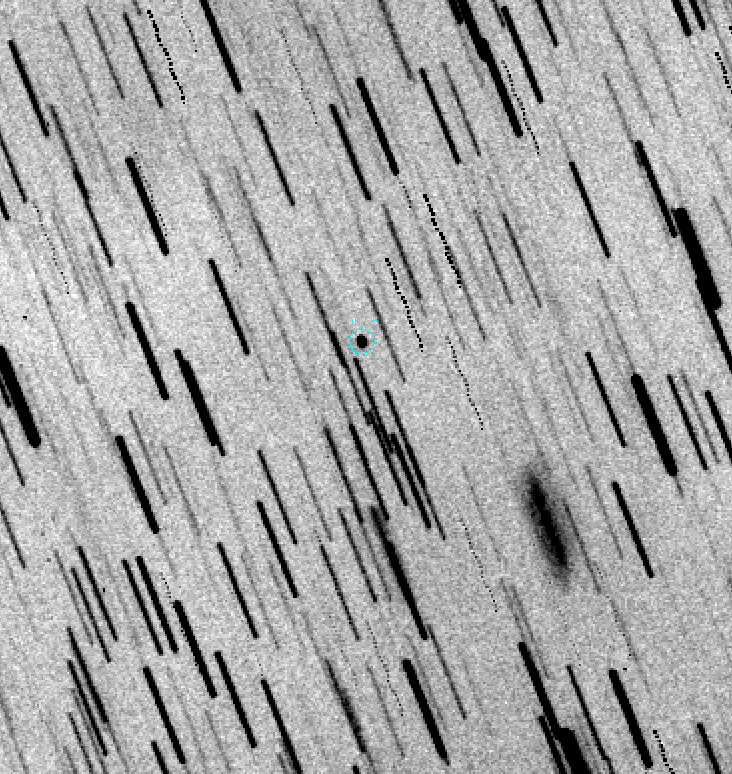 (Asteroid 138925: (20) x 30 seconds stacked on the asteroid. The fuzzy oval is NGC 6926)
I was finally able to capture one of the fast moving asteroids that had eluded me for a while. Asteroid (138925), a main belt asteroid, is the fastest asteroid captured by Transit Dreams Observatory, to date. It's currently crossing the sky at nearly 14 arc seconds per minute. I caught it last week, but my exposures were too long, creating a streak on the stacked images, instead of pinpoints. Those streaks created large residuals in the measurements of its position, making them unsuitable for submission to the MPC.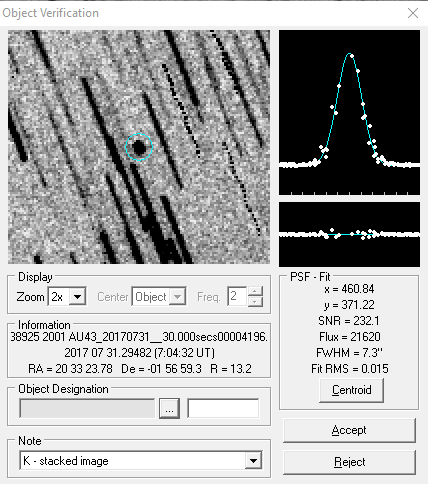 This past week I was able to finally get accurate measurements by shortening the exposures and increasing the number of exposures stacked. Listed below with the packed designation of D8925, are the measurements. The exposures were shortened to 30 seconds and 3 groups of 20 stacked images were combined, using the "Track and Stack" technique in Astrometrica. I was also aided by its increased brightness to magnitude 13.2.
In all 18 asteroids, and 8 comets were imaged and measured this past week.
COD W33
CON Transit Dreams Observatory
OBS D. Wilde
MEA D. Wilde
TEL 127mm F7.5 APO Refractor + CCD
ACK MPCReport file
NET UCAC-4
CK17O010 KC2017 07 26.36131 02 44 18.00 -08 12 57.4 14.4 N W33
CK17O010 KC2017 07 26.37129 02 44 18.91 -08 12 44.6 14.5 N W33
CK17O010 KC2017 07 26.37880 02 44 19.70 -08 12 35.8 14.5 N W33
CK17O010 KC2017 07 26.38783 02 44 20.53 -08 12 24.6 14.4 N W33
CK17O010 C2017 07 26.35808 02 44 17.70 -08 13 01.0 14.6 N W33
CK17O010 C2017 07 26.38664 02 44 20.43 -08 12 26.3 14.9 N W33
J0166 C2017 07 27.14753 19 38 34.22 +11 24 18.3 13.9 R W33
J0166 C2017 07 27.17950 19 38 42.08 +11 23 38.7 14.0 R W33
CK17O010 C2017 07 31.31898 02 52 19.19 -06 27 12.2 13.9 N W33
CK17O010 C2017 07 31.32752 02 52 20.05 -06 27 01.4 13.7 N W33
CK17O010 C2017 07 31.33671 02 52 20.92 -06 26 49.1 13.5 N W33
00169 KC2017 07 31.23045 21 49 04.28 -20 23 14.1 11.4 R W33
00169 KC2017 07 31.24269 21 49 03.63 -20 23 15.8 11.4 R W33
00169 KC2017 07 31.25535 21 49 02.92 -20 23 17.5 11.2 R W33
00447 KC2017 07 31.23045 21 49 38.47 -20 08 42.7 12.7 R W33
00447 KC2017 07 31.24269 21 49 37.93 -20 08 46.5 12.7 R W33
00447 KC2017 07 31.25535 21 49 37.36 -20 08 50.2 12.6 R W33
06053 KC2017 07 31.23432 23 24 11.87 -01 36 17.1 14.1 R W33
06053 KC2017 07 31.24684 23 24 12.32 -01 35 31.2 14.0 R W33
06053 KC2017 07 31.25969 23 24 12.76 -01 34 44.3 14.0 R W33
90075 KC2017 07 31.23840 23 54 03.17 +43 08 12.6 15.1 R W33
90075 KC2017 07 31.25105 23 54 01.54 +43 07 47.4 15.1 R W33
90075 KC2017 07 31.26368 23 53 59.90 +43 07 21.9 15.0 R W33
D8925 KC2017 07 31.27889 20 33 30.96 -01 51 58.9 13.2 R W33
D8925 KC2017 07 31.29482 20 33 23.78 -01 56 59.3 13.2 R W33
D8925 KC2017 07 31.31065 20 33 16.68 -02 01 58.2 13.2 R W33
CK15O010 KC2017 08 01.14356 16 41 52.72 +23 30 03.6 14.3 N W33
CK15O010 KC2017 08 01.15556 16 41 51.74 +23 30 02.9 14.2 N W33
CK15O010 KC2017 08 01.16757 16 41 50.84 +23 30 00.9 14.2 N W33
CK15V62L KC2017 08 01.18372 22 46 07.04 +11 46 42.4 14.4 N W33
CK15V62L KC2017 08 01.19579 22 46 04.62 +11 46 31.6 14.3 N W33
CK15V62L KC2017 08 01.20785 22 46 02.26 +11 46 20.4 14.3 N W33
CK16M010 KC2017 08 01.15159 17 21 09.96 +47 18 15.8 15.8 N W33
CK16M010 KC2017 08 01.16357 17 21 09.24 +47 18 04.6 15.3 N W33
CK16M010 KC2017 08 01.17560 17 21 08.61 +47 17 54.6 15.3 N W33
CK16N040 KC2017 08 01.18772 00 35 06.79 +54 58 42.6 15.7 N W33
CK16N040 KC2017 08 01.19985 00 35 06.17 +54 59 01.6 15.5 N W33
CK16N040 KC2017 08 01.21188 00 35 05.58 +54 59 20.4 15.6 N W33
CK16N060 KC2017 08 01.14758 15 19 39.70 +58 37 03.5 15.7 N W33
CK16N060 KC2017 08 01.15953 15 19 38.75 +58 36 57.0 15.8 N W33
CK16N060 KC2017 08 01.17157 15 19 37.74 +58 36 50.8 15.7 N W33
00024 C2017 08 01.22061 01 57 09.84 +11 38 41.4 12.6 R W33
00024 C2017 08 01.22853 01 57 10.03 +11 38 42.4 12.4 R W33
00024 C2017 08 01.24027 01 57 10.41 +11 38 44.4 12.5 R W33
00081 C2017 08 01.09547 15 50 12.82 -29 19 50.4 13.8 R W33
00081 C2017 08 01.11226 15 50 12.97 -29 19 48.3 13.9 R W33
00094 C2017 08 01.09547 15 49 07.90 -29 19 52.6 12.8 R W33
00094 C2017 08 01.11226 15 49 08.10 -29 19 51.0 12.8 R W33
0029P KC2017 08 01.17977 21 27 47.94 -13 47 35.1 14.7 N W33
0029P KC2017 08 01.19178 21 27 47.59 -13 47 36.1 14.7 N W33
0029P KC2017 08 01.20387 21 27 47.24 -13 47 36.9 14.7 N W33
00972 KC2017 08 01.21606 02 35 47.37 +24 31 48.4 13.8 R W33
00972 KC2017 08 01.22524 02 35 48.10 +24 31 52.8 13.7 R W33
00972 KC2017 08 01.23443 02 35 48.85 +24 31 57.3 13.7 R W33
02329 C2017 08 01.09093 13 18 01.28 +25 44 55.2 15.8 R W33
02329 C2017 08 01.10706 13 18 03.06 +25 44 43.6 15.7 R W33
11398 KC2017 08 01.12514 17 43 31.02 -00 35 01.4 16.1 R W33
11398 KC2017 08 01.13878 17 43 32.43 -00 35 41.4 16.3 R W33
81061 KC2017 08 01.17977 21 27 01.94 -14 00 11.7 17.5 R W33
81061 KC2017 08 01.20387 21 27 00.71 -14 00 17.9 17.6 R W33
D4702 KC2017 08 01.17977 21 28 34.08 -13 35 52.8 17.7 R W33
D4702 KC2017 08 01.19178 21 28 33.45 -13 35 53.4 18.6 R W33
D4702 KC2017 08 01.20387 21 28 32.68 -13 35 54.2 17.5 R W33
D8846 KC2017 08 01.12060 17 34 24.59 -09 49 17.0 17.0 R W33
D8846 KC2017 08 01.13416 17 34 25.20 -09 49 11.5 17.5 R W33
00558 C2017 08 01.32352 02 43 30.77 +08 05 54.1 13.9 R W33
00558 C2017 08 01.34782 02 43 32.02 +08 05 55.4 14.0 R W33
00558 C2017 08 01.37228 02 43 33.32 +08 05 56.6 13.9 R W33
04163 C2017 08 01.33293 02 43 47.74 +04 12 46.7 17.7 R W33
04163 C2017 08 01.35738 02 43 48.90 +04 12 46.3 16.8 R W33
04163 C2017 08 01.38178 02 43 49.99 +04 12 45.8 17.4 R W33
26852 C2017 08 01.31878 02 45 09.68 +09 56 41.7 17.7 R W33
26852 C2017 08 01.36748 02 45 13.45 +09 57 12.3 17.5 R W33
—– end —–