http://www.tdo.space/2017/07/26/young-imagers-at-roper-mountain-astronomers/
Young Imagers at Roper Mountain Astronomers
One of the best parts of the hobby of Astronomy is spending time with others who share your interests. In addition to imaging from Transit Dreams Observatory, when the weather permits, I am also a member of two local Astronomy clubs. The Roper Mountain Astronomers, and the Astronomy club of Asheville. On occasion we get the opportunity to observe the night sky from some nice dark areas, away from the light pollution. I had one of those opportunities this past weekend with friends from the RMA.
Our vice-president Mike F. found a great spot in the Sumter National Forest in South Carolina. With the permission of the rangers we set up at a nice spot on Lake Sedalia, overlooking the summer constellations of Scorpius and Sagittarius. Our normal observing spot has a light dome to the south, from a major city, so this was a real treat. To celebrate, I brought out "Caroline", my 15″ dob. She hadn't been out for a while, so I figured I could hunt down a bunch of globulars to finish up my Globular Cluster program from the Astronomical League.
A couple of young imagers I'd been harassing, er. , I mean advising, were in attendance with their DSLR's and tripods to image the wide breadth of the summer Milky Way. I'd thought about bringing a camera myself, but I wanted to rekindle the fire of my first love, visual observing.
I was amazed at the spectacular images they captured that night and had to share a couple of them with you here. My wife even commented "They're better than yours" when I showed them to her.
So, without further ado………….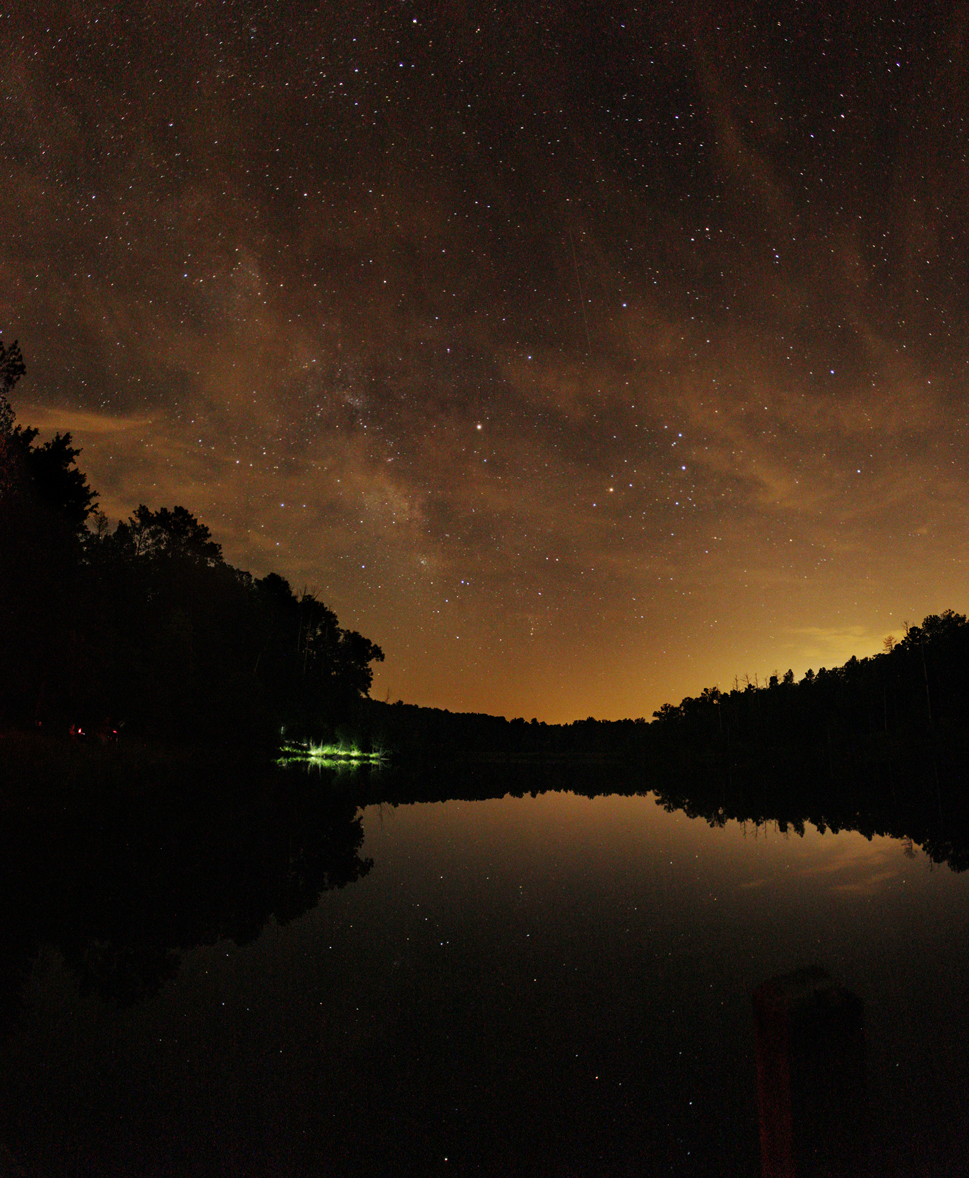 What is amazing to me about this image, captured by Fleet B., is the clarity of the reversed reflections of Scorpius and Sagittarius in the water. The thin clouds give an eerie nebulous feel to the composition of the image.
The image below, captured by James C., is the classic Milky Way shot as it stands tall in the southern summer sky. Again the stars of Scorpius and Sagittarius shine against the perfectly still waters of Lake Sedalia. As I added this image to the post the visual effect of the Milky Way struck me! "A giant rainbow trout poised to dive head first into the lake."
These images reveal the hard work, skill, and perseverance of these two budding astro-imagers.